In an effort to aid motivated students considering environmental careers, SWS proudly provides National Science Foundation-funded opportunities for undergraduate and graduate students from underrepresented groups to participate in the SWS Annual Meeting. These opportunities are structured to maximize exposure to career options in wetland science and include individual mentors paired with the students, career workshops and a luncheon. Spaces are also secured by the SWS Multicultural Mentoring Program director for students wishing to present papers or posters in the meeting's scientific agenda.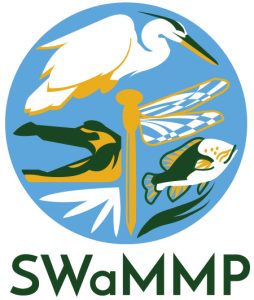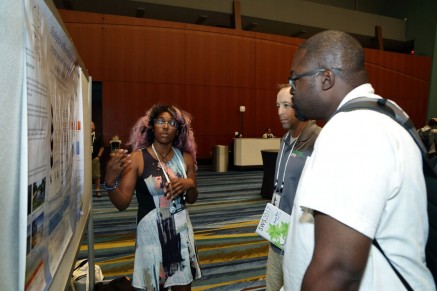 SWaMMP student Ashanti Shaprio presenting her poster at the SWS Annual Meeting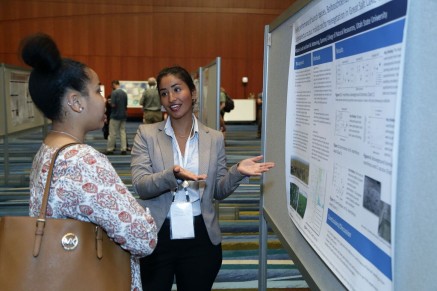 SWaMMP student Gabriela Judd presenting her award-winning poster at the SWS Annual Meeting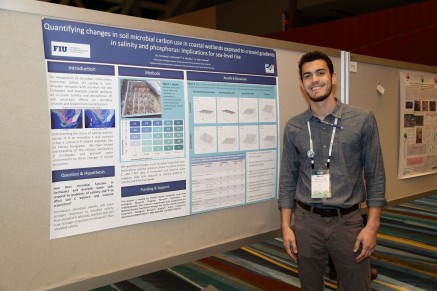 SWaMMP student Marco Fernandez at the SWS Annual Meeting poster session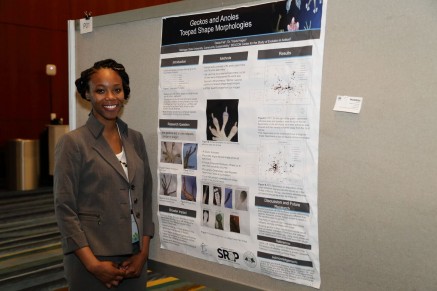 SWaMMP student Oacia Fair at the SWS Annual Meeting poster session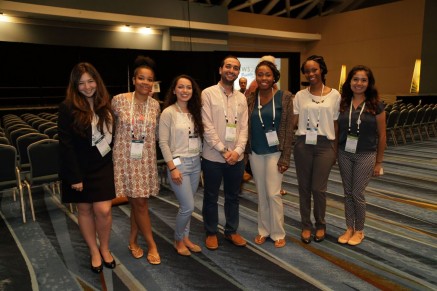 SWaMMP students with the SWS Wetland Ambassador Keshta Amr at the SWS Annual Meeting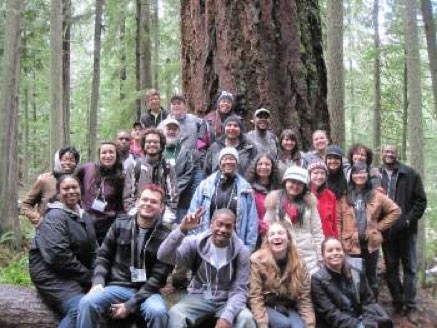 ESA SEEDS leadership workshop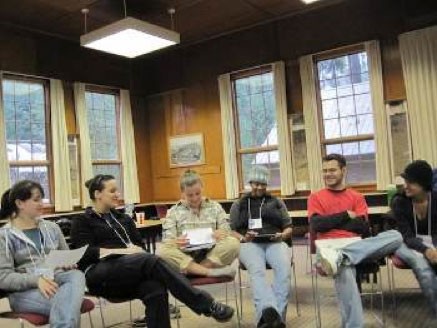 ESA SEEDS leadership workshop
Funding for these awards is also provided by SWS regional chapters. Since 2011, the SWS Multicultural Mentoring Program has expanded its mission to include not only mentoring of 8-11 undergraduate students per year, but also support for graduate students and past undergraduate student award winners to return to the annual meeting and serve as mentors themselves. This grant also supports student interaction with the Ecological Society of America SEEDS program. Visit our Human Diversity pages for information on SWS efforts in this area.
Participants are selected based on academic promise, interest in exploring a career in the wetland or environmental sciences, potential for serving as a mentor and demonstrated commitment to increasing opportunities for underrepresented students. Applications must be complete, including a "tell us about yourself" essay that is well composed and clearly addresses the requested information.
Accepted participants will receive:
Conference registration, lodging and travel expenses to the SWS Annual Meeting
SWS membership for one year following the award
Individual career mentoring
Postgraduate and career workshops
Networking opportunities to meet professionals from diverse fields
Opportunity to present a research poster
Networking opportunities with our growing community of SWaMMP students
Qualifications:
Participants must be citizens or permanent residents of the United States or its possessions. Undergraduate students must be enrolled in a degree program (part-time or full-time) leading to a baccalaureate or associate degree. Graduate students must be currently enrolled in a degree leading to a Masters or PhD.
For the purposes of these awards, applicants must belong to one or more of the following groups that have traditionally been underrepresented in wetland sciences: Black/African Americans, Hispanics/Latinos, Native Americans, Indigenous Alaskans, Native Pacific Islanders (Hawaiian/Polynesian/Micronesian).
For more information about SWaMMP contact:
Dr. Vanessa Lougheed 
University of Texas at El Paso