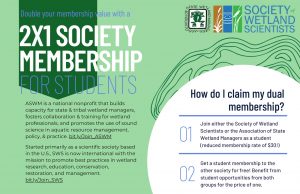 We have exciting news for students studying in the environmental sciences field! The Society of Wetland Scientists (SWS) has partnered with the Association of State Wetland Managers (ASWM) to provide students with the opportunity to get involved in both organizations for the cost of only one society student membership.
ASWM is a national nonprofit that builds capacity for state & tribal wetland managers, fosters collaboration & training for wetland professionals, and promotes the use of sound science in aquatic resource management, policy, & practice.
SWS started primarily as a scientific society based in the U.S. and grown into an international organization with the mission to promote best practices in wetland research, education, conservation, restoration, and management.
How to Claim Your Dual Membership:
Join either the Society of Wetland Scientists or the Association of State Wetland Managers as a student (reduced membership rate of $30!)
Get a student membership to the other society for free! Benefit from student opportunities from both groups for the price of one.
Get a Student Membership with SWS and get ASWM Benefits for Free!