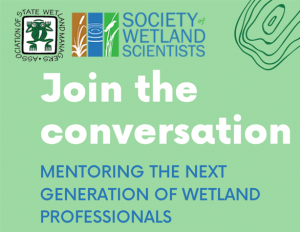 Join us on Wednesday, October 6 from 3:00-4:30pm CT for the Mentoring the Next Generation of Wetland Professionals webinar.
HOSTED BY: Association of State Wetland Managers (ASWM) and the Society of Wetland Scientists (SWS)
LEARN HOW YOU CAN BENEFIT FROM THE NEW ASWM/SWS JOINT STUDENT MEMBERSHIP PROGRAM!
Hear from leaders in ASWM and SWS about plans to increase access for students
Listen to the stories of students in both organizations about their experiences in mentorship
Tell us what you're looking for in a mentorship program and how we can better support you
ABOUT ASWM
ASWM is a national nonprofit that builds capacity for state & tribal wetland managers, fosters collaboration & training for wetland professionals, and promotes the use of sound science in aquatic resource management, policy, & practice.
ABOUT SWS
Started primarily as a scientific society based in the U.S., SWS is not international with the mission to promote best practices in wetland research, education, conservation, restoration, and management.
REGISTER: