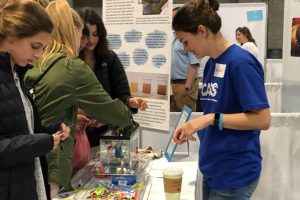 The Consortium of Aquatic Science Societies (CASS) had a booth at the USA Science and Engineering Festival (SEF) in Washington, D.C. on April 7 and 8, where SWS members volunteered. The SEF is free to attendees and allows children, teens and families to interact with over 3,000 hand-on exhibits "from the world's leading scientific and engineering societies, universities, government agencies, high-tech corporations and STEM organizations.
A special thank you to Ben Blocher, Brittany Ott, Jeff Trulick and Laura Vrabel, who helped engage approximately 3,500 attendees with interactive experiments, demonstrations and hands on activities. The booth featured a plankton race, activities on density, alginate, saltwater stress and a secchi desk.
Attendees really enjoyed the activities and level of engagement our booth volunteers brought to the festival!