Internationally renowned aquatic scientist Dr. Brij Gopal, President of National Institute of Ecology and Founder-Coordinator of Centre for Inland Waters in South Asia, passed away on January 4, 2021. He retired in 2009 as Professor of Environmental Science from the Jawaharlal Nehru University, New Delhi. He had worked in all aspects of ecology, biodiversity, ecosystem functioning, water quality, economic valuation, conservation, restoration and management of a variety of aquatic ecosystems from the mountains to the coasts. He examined traditional management by local communities, socio-economic aspects, climate change and issues related to policies and law in the context of integrated water resources management. He was one of the lead authors of the 2007 Nobel Peace Prize-winning IPCC's Fourth Assessment Report (2007). He was the first recipient of the Young Scientist Medal of the Indian National science Academy (1974) and is the only recipient of the Naumann-Thienemann Medal (2004) of the International Association of Limnology (SIL) from Asia, Africa and South America. He was the second Asian recipient of the International Fellow award (1997) of the Society of Wetland Scientists. He was a guest Professor at Swiss Federal Institute of Technology in Zurich and Editor–in Chief of the International Journal of Ecology and Environmental Sciences for decades.
Dr. Gopal served on numerous committees related to wetlands, rivers, lakes, fisheries, forests, environmental impact assessments, including those of the ICAR, Planning Commission, Ministry of Environment, Forest and Climate Change, State High Court of Himachal Pradesh and the Supreme Court of India. He was Chair of Wetland Conservation and Management Working Group at the Chhattisgarh State Planning commission and the National Green Tribunal. Most recently, he was a member of the National Green Tribunal appointed Principal Committee for Restoring the Yamuna River and the Ministry of Water Resources Committee on Restructuring of Central Water Commission and Central Ground Water Board.
During his teaching years, Dr. Gopal mentored a number of students who currently occupy eminent posts nationally and internationally. He is survived by his daughters, Sudha and Anjali, his son Rajiv, and his grandchildren.
In Memory of Dr Brij Gopal
by Max Finlayson, Immediate Past President SWS
I was pleased to be able to attend an online tribute for our friend and colleague Dr Brij Gopal on 1 February 2021, on the eve of the 50th anniversary of the signing, in the Iranian city of Ramsar, along the southern shores of the Caspian Sea, of the text of the Convention on Wetlands. The event was organised by the Indian Rivers Forum in cooperation with his family, with a short video accessible at https://www.facebook.com/IndiaRiversForum/videos/4029391203784691/
In my comments I was pleased to be able to point to his long association with the INTECOL International Conferences, having organised the first in New Delhi in 1980. He was also a regular participant in SWS meetings, and active in Indian and international science and river/wetland management issues. His legacy is shown through his publications, as well as his students and the many colleagues that he mentored and supported, as well as the many lectures and conference talks that he presented. He was a forthright speaker and always ready to share his knowledge about wetlands and rivers.
My links with Brij started in 1981 when he visited Australia for the International Botanical Conference. In the company of another legend of aquatic plant ecology and management, Dr David Mitchell, I was privileged to spend a week looking at waterways, wetlands and weed problems in the inland irrigation districts of SE Australia, and discussing both the ecology and management issues we faced. That led to an ongoing association with Brij and meetings in many places with many wonderful and erudite wetland ecologists and managers, including meetings alongside the lakes and ancient fish ponds of South Bohemia, the magnificence of the Okavango Delta in Botswana and the Pantanal in Brazil.
Thank you Brij for your scholarship and your friendship.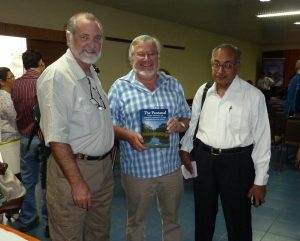 Photo: Max Finlayson, Wolfgang Junk and Brij Gopal